Our mission: To make life better for cats and their people by providing expert, effective feline health care with minimal stress and maximum compassion.
Meet the Staff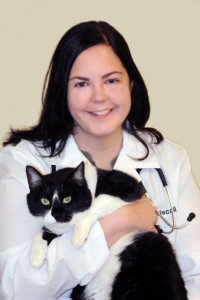 Jennifer L. O'Driscoll, DVM, MS
Veterinarian
Dr. O'Driscoll's cat career started at age 10 with her first paying job cat-sitting for her neighbor's cats, Zooey and Waders. Since then, she has worked with animals at vet clinics in Louisiana and Maryland, a zoo in Rhode Island, a pig farm in Ireland, an animal shelter in Washington, DC, and a farm animal sanctuary in West Virginia.
Her undergraduate degree in biology is from Brown University, and she also earned a Master of Science in Animals and Public Policy (her thesis was about farm animal welfare). After graduating from Tufts University School of Veterinary Medicine in 2004, Dr. O'Driscoll completed a small animal medicine and surgery internship at Wheat Ridge Animal Hospital in Denver. Her next job was as a neurology intern and then neurology resident at a specialty veterinary practice in Maryland.
After switching gears and moving to amazing Lawrence, Kansas, in 2007, Dr. O'Driscoll worked as a veterinarian at Veterinary Specialty and Emergency Center in Overland Park, the Lawrence Humane Society, and a local small animal practice. In 2011, her dream of providing care exclusively for cats and their people came true with the opening of the Cat Clinic of Lawrence at 1701 Massachusetts St.
When she is not immersed in all things feline, Dr. O'Driscoll is on the board of the Social Service League of Lawrence and reads for Kansas Audio Reader.
Christian has a BA in Art History from KU and is very happy to be back in Lawrence after some years away. She has 3 cats, all rescues, named Mr. Big Stuff, Little Pauline, and The Hoot. She has many years of customer service experience and is a professional seamstress for theater and ballet in addition to keeping the Cat Clinic's front desk running smoothly. Outside of work she likes antiques, watching football, and playing soccer, kickball, softball and tennis.
Jamie is a Kansas native and longtime Lawrence resident.  Her relationship with the Cat Clinic began as a client then moved to joining our team in 2013, after many years with a local optometric practice.  She has two kitties of her own, Dash and Flex.  When she's not at work Jamie and her husband, Jake, can be found enjoying all the wonderful art, food and music the Lawrence community has to offer.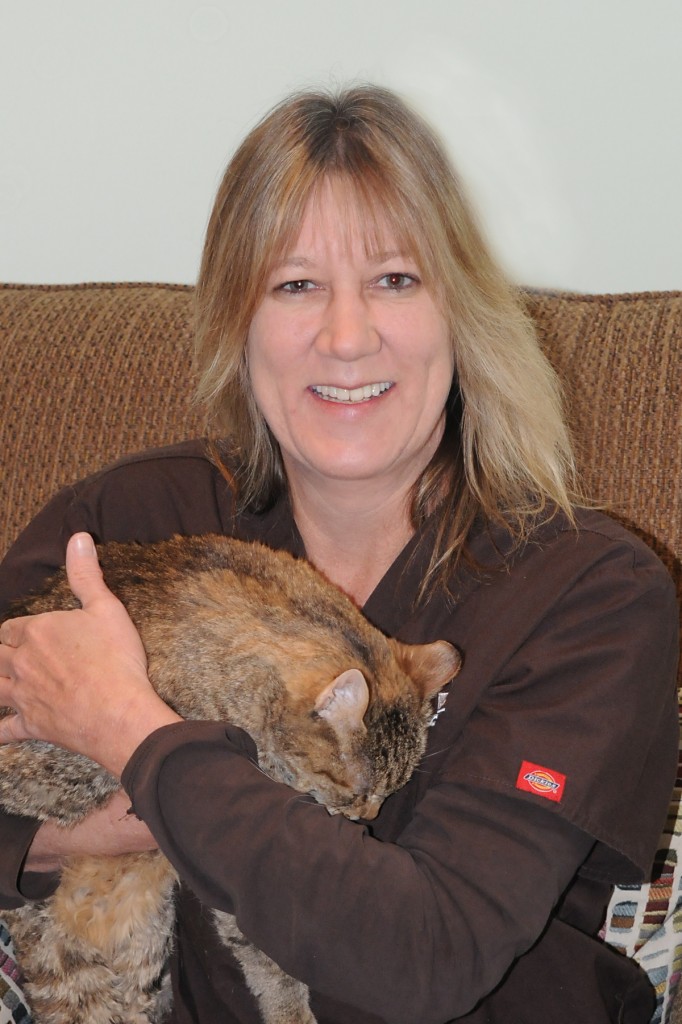 Lisa Albright
Veterinary Technician
Lisa has been a vet tech in the Kansas City area for 12 years. She moved to Lawrence in 2013 to be closer to family. She has an associate degree in business and enjoys camping, making crafts, and spending time with her family.
Tina Howard, RVT
Veterinary Technician
Tina is originally from southern Illinois and earned a B.S. in Zoology from Southern Illinois University. She graduated from Maple Woods Community College in 2002 with an Associate in Applied Science in Veterinary Technology and has worked in Lawrence as an RVT ever since. Her animal family members include four cats and two horses. In her spare time she enjoys playing with her cats, riding horses, and hanging out with her husband and son.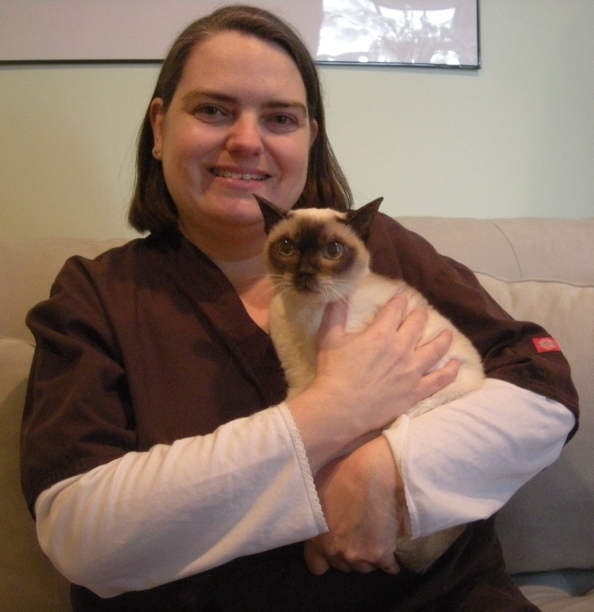 Andrea Yourtee, RVT
Veterinary Technician
Andrea has been a veterinary technician since 1998, when she graduated from the Maple Woods Community College veterinary technology program. She has lived in Lawrence since 1990. She shares her home with one cat, two rabbits, two birds, two bearded dragon lizards, and three guinea pigs. In her free time she is involved in wildlife rehabilitation and enjoys reading and watching movies.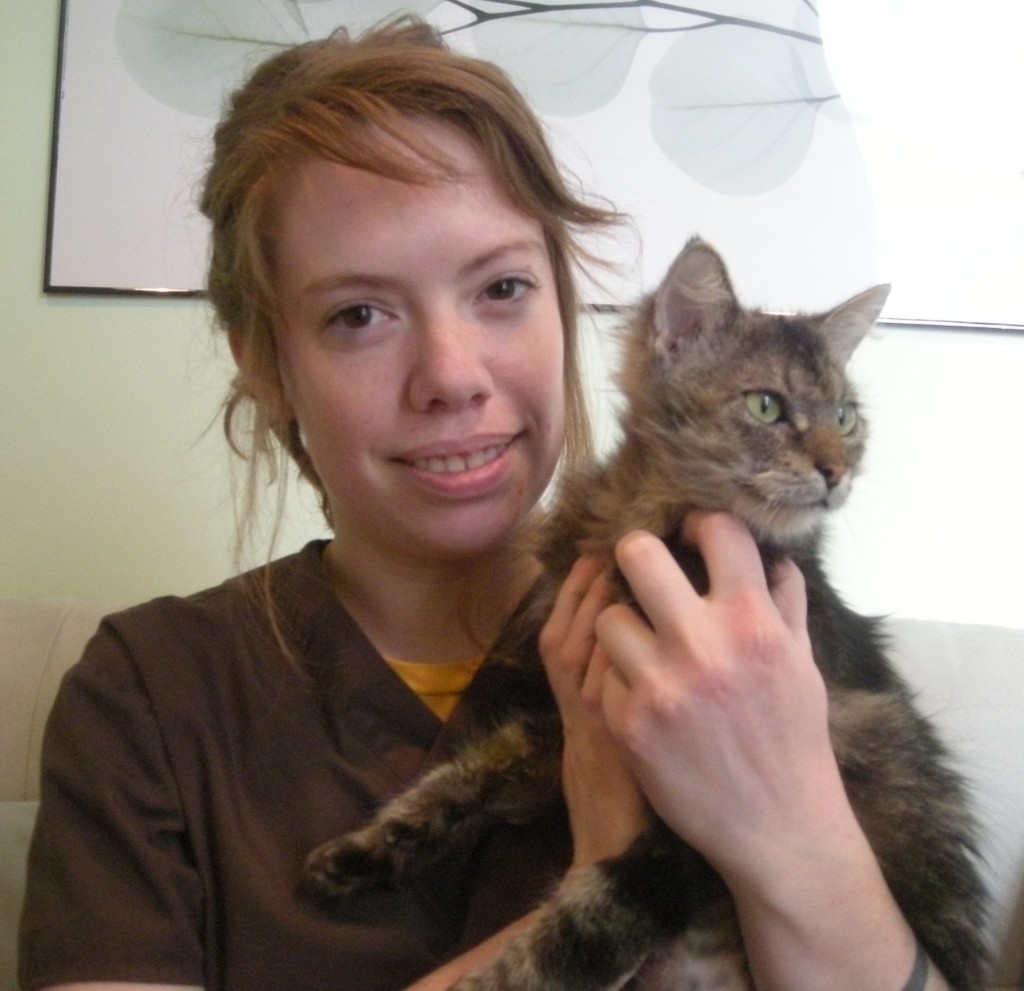 Maria Ezell
Veterinary Assistant
Maria is originally from the tiny town of Yoder, Kansas.  She has a degree in sociology from WSU.  After working at the Lawrence Humane Society for a year, Maria joined the Cat Clinic.   She enjoys bartending at the Gas Light in north Lawrence.  In her free time she loves reading, cooking, and spending time with her family.   She also enjoys managing her herd of foster kittens and snuggling with her schnauzer Zeke and pit bull Zeus.